Det er fredag. Jeg har været stille længe pga. min praktik. Der plejer at udkomme et indlæg hver fredag, men nu er det så længe siden, jeg vist ikke har lov til at benytte udtrykket 'plejer'. Jeg forventer dog, at den tradition bliver genoptaget nu.
I dag starter påskeferien for mange, så snart de vender ryggen til skolen og cykler hjem. For en del voksne, må man lige vente nogle dage endnu. Men jeg er studerende OG kommende folkeskolelærer, så min ferie starter nu. Jeg skal ikke møde op nogle steder de næste 10 dage, hvilket er en befrielse! Samtidig har jeg netop afleveret den sidste opgave i en rum tid, så for første gang længe har jeg faktisk noget der minder om ferie.
TBR-Tackling
Og hvad skal man så bruge sådan en ferie på, når man endelig har den? Slå hjernen fra og koble helt af? Næh – man skal da deltage i TBR-tackling! Jeg skal i hvert fald. Sidste år startede Blossomingreading og Booknerdis/Rikke Reads (find dem på instagram eller youtube).
TBR-Tackling er et ugelangt læsemaraton, som eksisterer for at vi kan få taget en god bid af vores TBR-stak. Vi kender jo alle sammen til de evigt voksende TBR-lister og -stakke, som til tider kan synes helt uoverskuelige, fordi der bare udgives så meget god litteratur! Men i denne uge får vi altså mulighed for at fokusere på de bøger, der måske har ventet længe på at blive læst, eller som vi ser helt vildt meget frem til, men bare ikke lige har kunnet afsætte tid til.
Læseudfordringerne
Der er fastsat nogle læseudfordringer, som man kan opfylde, hvis man har lyst til at lade sig udfordre og/eller vejlede i sit valg af bøger fra TBR-listen. Det er muligt at mixe og matche udfordringerne præcis som man ønsker, og man kan derfor vælge at læse en bog til hver udfordring, men man kan også vurdere, at man ikke får tid til at læse så meget, og derfor vælger en bog, der opfylder mere end en af udfordringerne.
Udfordringerne lyder:
Læs en bog i en genre du ikke læser så tit
Læs en bog du har lånt på biblioteket
Læs en bog med en smuk ryg
Læs en bog med blåt på forsiden
Læs en bog skrevet af en dansk forfatter
Mine bøger
Baseret på ovenstående udfordringer har jeg valgt at have følgende bøger på min TBR for dette readathon (Den/de læseudfordring(er) bogen opfylder står i parentes):
Mowgli af Sarah Engell. (1, 4, 5)
Hvad jeg taler om når jeg taler om at løbe af Haruki Murakami (1, 2, 4)
Blodmåne af Katrine Engberg (3, 4, 5)
Hidden Bodies af Caroline Kepnes (2, 4)
Jeg er virkelig spændt på at komme i gang med TBR-Tackling i denne omgang. Det var en succes sidste år, selv om jeg langt fra nåede det planlagte. I år har jeg mere læsetid, så jeg håber virkelig på at komme i bund! I hvert fald med tre af bøgerne.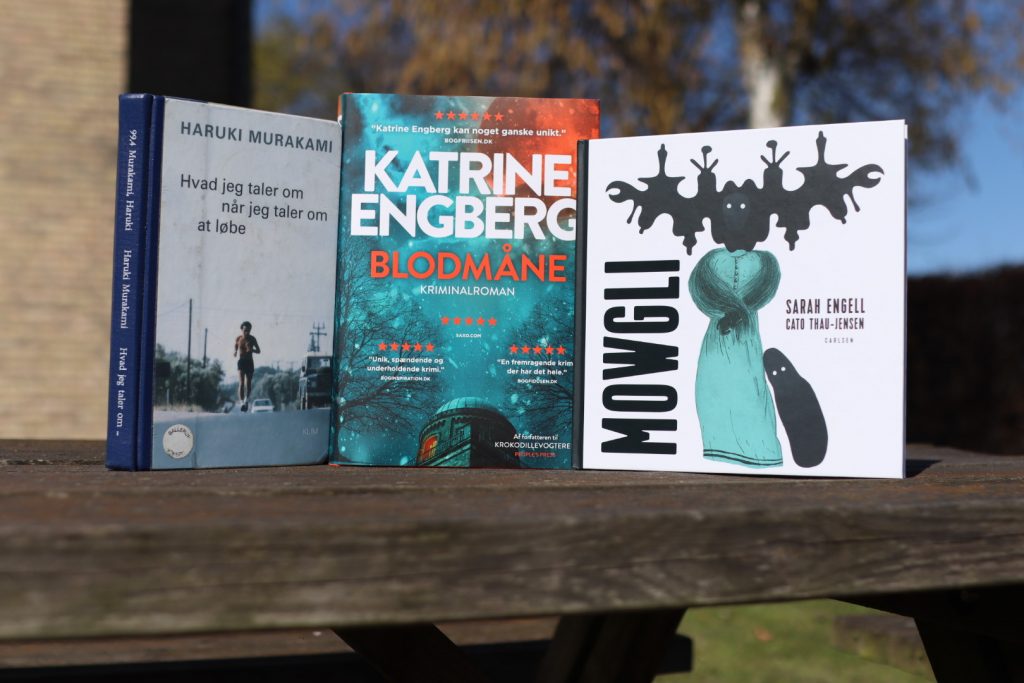 TBR-Tackling løbende
Jeg vil løbende opdatere dette oplæg, som jeg afslutter bøger eller får tanker, der giver mening at dele om dem. Måske kommer der også lidt om de forskellige udfordringer undervejs, men det ved jeg først, når udfordringerne bliver offentligtgjort!
Jeg glæder mig til at invitere dig med på denne rejse, og du er selvfølgelig altid velkommen til at stille spørgsmål, kommentere eller give gode ideer i en kommentar til dette indlæg eller via instagram!
Tirsdag den 16. april
Det går forrygende med min TBR-tackling. Jeg fik lige en uventet tur til Sverige i går, som kostede mig en hel læsedag, men det var til gengæld enormt forfriskende.
Jeg er p.t. i gang med to bøger og har afsluttet en.
Jeg har afsluttet Mowgli af Sarah Engell, hvilket opfylder læseudfordring nr. 1, 4 og 5. Mowgli er en fantastisk rørende og skræmmende, lillebitte bog, der siger så meget mere end de ord og illustrationer den indeholder. Det er en af de bøger, man er NØDT TIL(!) at læse igen, når man har vendt den sidste side. Jeg har ydermere givet den 5/5-stjerner på Goodreads.
Derudover er jeg 20% inde i Hidden Bodies og 15% inde i Hvad jeg taler om når jeg taler om at løbe. Det er to meget forskellige historier, som begge skal opfylde læseudfordring nr. 2 (blandt andre). Hidden Bodies fik jeg taget en ordentlig bid af i weekenden, mens Hvad jeg taler om når jeg taler om at løbe går mere stille frem, og oftest bruges som aftenlæsning.
Søndag den 21. april
TBR-Tackling er slut for denne gang. Jeg fik ikke læst helt så meget, som jeg havde håbet på, og fik heller ikke deltaget i helt så mange af udfordringerne, som jeg egentlig havde tænkt, jeg ville. Der har bare været andre ting, der har fyldt i denne påske, og det har også været helt okay. Det har dog været hyggeligt at følge med i andres deltagelse. Jeg synes at mange af udfordringerne i år var svære, og det har måske også spillet en lille rolle i, hvorfor jeg ikke har deltaget i dem. De har dog været megaspændende, så jeg har nydt at følge med i andres indlæg til de forskellige udfordringer.
Udfordringerne
Opvarmningskonkurrence: Vis os din TBR til TBR-Tackling 2019
1. udfordring: Tag et billede af det sted, hvor du læser allermest/dit yndlingslæsested.
2. ufordring: Lav en regnbue af bøger.
3. udfordring: Lav en fancast til en bog, du rigtig godt kan lide
4. udfordring: Tag et billede af din bog i et miljø, der matcher bogens miljø.
5. udfordring: Two truths and a lie. Tag et billede af 3 bøger, 2 af dem skal du have læst, 1 af dem skal være på din TBR.
Det sted jeg læser mest er nok i vores sofa. Selv når jeg læser lektier sidder jeg ofte i sofaen.
Jeg lavede en fin regnbue af TBR-bøger.
Sjovt nok har jeg aldrig rigtigt skænket Fancast en tanke, når jeg læser bøger. Derfor var denne udfordring ret svær for mig, og jeg endte med ikke at komme frem til noget bud overhovedet.
Jeg overvejede at tage "Hvad jeg taler om når jeg taler om at løbe" med en tur ud til den nærmeste sø, fordi han skriver om et 100km-løb rundt om en sø i Japan, men jeg nåede aldrig rigtigt så langt og pludselig var tiden gået. Det var ellers en udfordring, jeg synes, var ret sjov, omend lidt svær, da det netop forudsætter, man har adgang til et sted, der matcher et miljø i noget man har læst.
Two truths and a lie var en sjov udfordring, som jeg simpelthen bare glemte at lave, fordi jeg havde en masse andet i hovedet. Derudover er jeg vildt dårlig til at lyve: Jeg bryder mig ikke om det – heller ikke på skrift, så det har bestemt også en betydning ift. at jeg glemte/ikke nåede at lave den.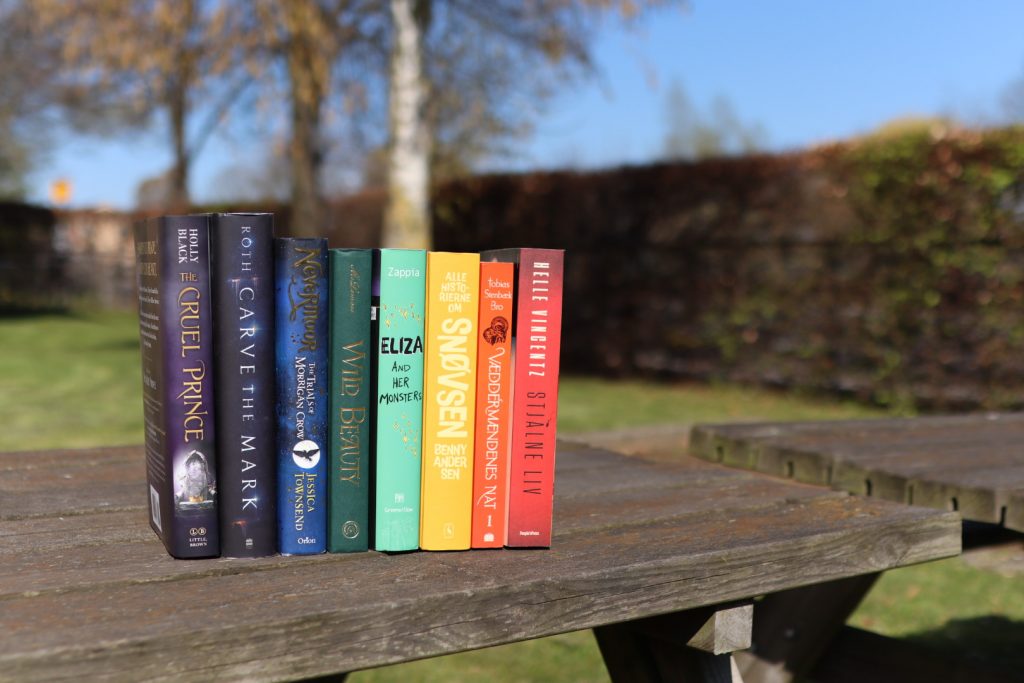 Min læsning
Jeg har fået læst to bøger og påbegyndt to. I alt er det blevet til 361 sider. De bøger, jeg er blevet færdig med er:
Hvad jeg taler om når jeg taler om at løbe af Haruki Murakami, som er en morsom, interessant og yderst velskrevet personlig beretning om det at løbe og skrive bøger. Jeg kan varmt anbefale denne bog, og særligt til løbere, forfattere og dem, der er interesseret i at lære Murakami bedre at kende.
Mowgli af Sarah Engell. Denne billedenovelle var smuk og barsk, og da jeg havde vendt sidste side, var jeg nødt til lige at læse den igen, hvilket blot gjorde, at historien åbnede sig endnu mere for mig! Igen en bog jeg varmt kan anbefale alle at læse. Den er let at komme igennem, men man kan også trække så meget ud af den, at den bliver en tung omgang.
Begge bøger har fået 5/5 stjerner af mig på Goodreads.
Jeg er påbegyndt Blodmåne af Katrine Engberg, hvilket jeg jo har forsøgt at gøre hele året, så det i sig selv er en sejr! Men hun skriver så fint og fængende, at jeg slet ikke forstår, det kan have taget mig så lang tid.
Samtidig er jeg i gang med Hidden Bodies af Caroline Kepnes (fortsættelsen til You), men den skal desværre afleveres om et par dage på ereolen, så den forventer jeg desværre ikke at blive færdig med foreløbig. Jeg må indrømme, at den også har skuffet mig lidt. Men måske har jeg bare været for entusiastisk efter You og skal lige have en pause, så jeg ikke baserer min oplevelse af Hidden Bodies på forløberens succes, men derimod på dens egne præmisser.
Tak for denne gang
Det har været hyggeligt at have TBR-Tackling at bruge tiden i påsken på. Jeg har haft rigtig meget brug for at koble af og slappe af, men hader, når jeg ikke har nogle planer. Derfor har det været rart med dette readathon, så jeg hele tiden havde noget at vende tilbage til, når jeg kedede mig eller ikke vidste, hvad jeg skulle bruge min tid på.
Nu venter fremtiden og igen; studie, job og eksaminer lurer lige rundt om hjørnet. Samtidig skal jeg også have styr på min universitets- og visumansøgning, så jeg kan fortsætte mine studier på den anden side af sommerferien (og jorden). Så jeg forventer stærk nedgang i min læsning de næste par måneder. Desværre. Men lidt bliver jeg altså nødt til at prioriterer mit studie, selv om jeg synes, de fleste prøver og eksaminer er spild af tid, da de i bedste fald blot er et udtryk for min nuværende præstation.