Så går det løs!
18:25
Dewey's Readathon efteråret 2018 har været i gang i 4 timer og 25 minutter på nuværende tidspunkt og jeg er endelig kommet hjem fra Herlufsholm Fantasy Bogmesse og skal til at starte på min læsning i dette 24-timers læsemaraton.
Stakken består denne gang af:
Harry Potter and the Philosopher's Stone af J.K. Rowling(332 sider)
Harry Potter og hemmelighedernes kammer af J. K. Rowling (360 sider)
Mowgli af Sarah Engell (37 sider)
Hader, hader ikke af Glenn Ringtved (39 sider)
Mørke rum af Kristina Aamand (225 sider)
Dragon Ball #2 af Akira Toriyama (181 sider)
Jeg har ingen intentioner om, at gennemlæse alle bøgerne i stakken, men jeg forventer helt klart at få afsluttet den første Harry Potter-bog, og også gerne få læst de to billednoveller. Mørke rum er mest på listen, fordi den står ret højt på min TBR-liste lige nu, så hvis jeg skulle være i humør til noget andet end magiske fortællinger, så kan jeg give mig i kast med den. Men efter fantasy bogmessen i Herlufsholm føler jeg mig faktisk ret klar til at begynde på en genlæsning af Harry Potter for første gang i noget, der minder om ti år. Jeg startede Harry Potter 1 i et tidligere readathon, men nåede kun at læse i den en halv time, og så kom jeg faktisk ikke tilbage til den – men nu skal det være. Håber jeg.
Snacks
Jeg har lige delt en pose popcorn med min kæreste og åbnet en pose lakridser (Pingvin poletter), så jeg er ret godt fyldt op på snackssiden. Jeg skal lige hav fyldt min vandflaske op så snart jeg har skrevet færdig her, og så skal jeg ellers bare i gang med det skønne Harry Potter-univers.
Følg med
Jeg vil løbende opdatere dette indlæg, og ellers kan I følge med på Instagram under mit handle @cherryblossomreads.com
Jeg glæder mig til også at følge med hos jer!
00:25
Mit readathon går slet ikke som planlagt. Jeg har læst 50 sider i Harry Potter – og selv om det er virkelig fantastisk læsning, så føler jeg mig bare træt hele tiden.
Jeg har også læst Hader, hader ikke af Glenn Ringtved, men bortset fra det, må jeg indrømme, at det nok er alt hvad jeg når i dag. Nu vil jeg smutte i seng og sove til jeg vågner og så håbe, at dagen i morgen bliver bedre!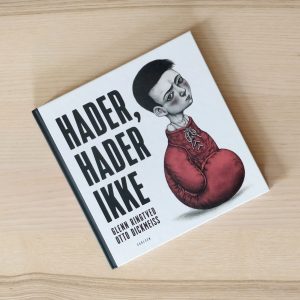 09:59
Jeg har sovet længe, for jeg har haft brug for det. Jeg tror måske, at al den ondt i halsen og snotnæse, der har generet mig den sidste uges tid er ved at sætte sig som en rigtig omgang forkølelse. Hele min krop værker her til morgen og mit hoved føles tungt og "indpakket". Jeg ved ikke, hvordan man ellers skal forklare det.
Anyways: Jeg starter morgenen med at besøge en masse forskellige blogs og læse lidt om andres readathons og se, hvor mange der har kunnet holde sig vågen hele natten. Det bliver nok aldrig et mål for mig, medmindre jeg har fri de efterfølgende dage.
Efter det vil jeg fortsætte i Harry Potter, som jeg stadig håber på at kunne læse færdig i løbet af de næste fire timer.
Hav et dejligt readathon alle sammen!
14:22
Så er denne omgangs readathon slut, og jeg har absolut ikke haft det bedste af slagsen. Jeg har været træt og haft svært ved at samle mig, så det er blevet til meget mere tv-/filmkiggeri og gåture end det er blevet til læsning. Jeg har dog begyndt og afsluttet Hader, hader ikke af Glenn Ringtved, som var en ret fantastisk oplevelse. Særligt fordi jeg blev ved med at høre Ringtveds stemme i mit hoved, når jeg læste, hvilket absolut var et plus for oplevelsen. Derudover har jeg fået læst 70 sider i Harry Potter and the Philosopher's Stone, hvilket på ingen måde var det jeg havde forventet, men i betragtning af hvordan jeg har haft det, så er det faktisk ganske udmærket. De 70 sider har jeg dog nydt ganske meget og jeg er virkelig glad for at have påbegyndt min genlæsning af Harry Potter-serien. Den er meget sjovere (her i begyndelsen) end jeg huskede den. Et sted mellem klokken 11 og 12 gav jeg op på læsningen, og lavede i stedet brunch til min kæreste og jeg, hvorefter vi tog en tur i skoven.
Alt i alt
Dewey's Readathon efterår 2018 har alt i alt været en hyggelig, men absolut ikke voldsomt læsefyldt oplevelse. Jeg har dog været enormt spændt på at komme i gang inden, men blev desværre ramt af mangel på koncentration, træthed og forkølelse, og glæder mig derfor allerede til at kunne gøre det bedre til foråret!
Jeg har i alt fået læst 109 sider, hvilket er meget mindre end nogensinde før, men så burde det ikke blive et problem at slå om et halvt år 😉
Jeg håber, du har haft et skønt Readathon denne gang! Jeg har i hvert fald nydt at følge med i andres læsemaraton i stedet for mit eget, når nu jeg bare ikke var i humør til det.