Lørdag den 14. april stod i bøgernes navn, da jeg brugte min eftermiddag i selskab med andre skønne bogbloggere hos Forlaget Carlsen/CarlsenPuls til et arrangement om realisme i YA-litteratur , der var arrangeret af Julie The Book Cat. Som stadig forholdsvis ny bogblogger var det mit første af den slags arrangementer og jeg var spændt og helt tosset nervøs hele morgenen og formiddagen på at skulle af sted. Men af sted skulle jeg!
Realisme i YA-litteratur
Programmet bød på hele tre forfattere, to redaktører og en forlagschef (og sådan én har jeg aldrig mødt før!), så det var et tætpakket program, vi skulle igennem på de tre eftermiddagstimer. Derudover blev vi overhældt med fantastiske gaver fra mange forskellige sponsorer, hvilket var en noget overvældende oplevelse for mig, og jeg turde næsten ikke tro på, at jeg fik lov til at slæbe det hele med hjem!
Hvordan skriver man YA?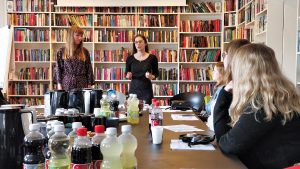 Først på programmet var Caroline Ørsum og Camilla Wandahl til en snak om hvordan man skriver realistisk YA-litteratur. Caroline lagde ud med at definere begrebet realisme som mulig virkelighed og menneskelig handling, hvilket er vigtigt at forholde sig til, når man vil skrive realistisk. Derfor er det vigtigt at researche og undersøge mange af de elementer i ens tekst, man ikke selv på forhånd ved noget om. Der er dog stadig en frihed til at 'finde på' i realistisk ungdomslitteratur, hvilket Caroline har gode erfaringer med, da hun opfandt bandet Pale Blue Horizon til sin nyeste bog Wiki over Miss Elises elendige liv.
De to forfattere kom også ind på deres skriveprocesser og fortalte, at de begge skriver forholdsvis ufærdigt. Derudover bød Camilla ind med gode råd til at få en god skriveproces uden skriveblokader (hint: skriv i små korte intervaller og accepter, at det du skriver kan ændres senere).
Hvordan udgives en ny bog?
Nanna Nørh fra forlaget Høst & Søn kom forbi og fortalte om hele processen bag en bogs udgivelse. Hun fortalte bl.a. lidt om, hvordan redaktørerne mødes og fordeler manuskripter, samt hvad der sker, hvis et manuskript antages eller afslås. Til hverdag arbejder Nanna både med danske og udenlandske titler, og processen er forskellig i de to, da de udenland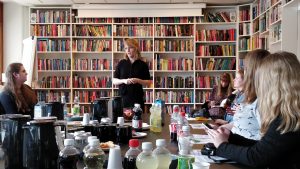 ske titler jo allerede er udgivet og derfor ikke skal redigeres i indhold. De skal til gengæld oversættes, så her arbejder hun meget med at finde den rigtige oversætter til teksten, hvilket glædede mit lille oversætter-hjerte. Nanna lagde også vægt på, at en redaktørs job ofte går ud på at foreslå ændringer, og faktisk ikke rette, som mange ellers kan tro.
Kan YA blive for råt?
Forfatter Ditte Wiese og redaktør Kaya Hoff fra Carlsen snakkede om grænserne for hvor råt man kan skrive YA-litteratur. Dittes egen debutroman Provinspis er en rå oplevelse, som faktisk får mange voksne til at fravælge den, når de køber bøger til deres børn og børnebørn. Både Ditte og Kaya mener dog ikke, at YA kan blive for råt. Det kan måske i nogle tilfælde blive for meget, men i sidste ende er de dog enige om, at det vigtigste er, at det rå og barske giver mening! For hvis det ikke giver mening, så virker det ikke. Derudover løftede Ditte sløret for, at hendes næste roman kommer til at være en lidt anden type rå roman, og jeg er vildt spændt på at se, hvad hun kan trylle frem!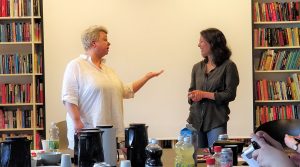 Aflsutning og rundtur
Afslutningsvis gik forlagschef  Christian Bach fra forlaget Carlsen på scenen og fortalte kort om tilblivelsen af CarlsenPuls, samt præsenterede kommende udgivelser fra forlaget Carlsen og CarlsenPuls. Dette bød på en masse spændende titler, som fik mig til at genoverveje ideen om at droppe job og uddannelse og blive fuldtidsbogorm i stedet. Herefter sagde vi pænt tak og farvel til de dejlige mennesker, der havde afsat tid til at glæde en flok bogbloggere med en fantastisk arrangement på sådan en lørdag eftermiddag. Christian bød dernæst på en rundtur på forlaget hvilket undertegnede bestemt ikke kunne takke nej til.
Til sidst fik vi kastet endnu en bog i hovedet og sendt hjem med varme hilsner og masser af smil. Alt i alt var det en yderst givende dag, og det er bestemt ikke det sidste arrangement, jeg deltager i. Stemningen og muligheden for at stille spørgsmål var fantastisk! Og det var så meget anderledes end de større arrangementer, jeg plejer at deltage i (som eksempelvis Bogforum).
Hvad var der så i posen?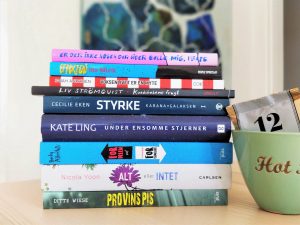 Arrangementet var sponsoreret af og posen fyldt med lækkerier fra: Forlaget Carlsen, People's Press, Høst & Søn, Gads Forlag, Forlaget Cobolt, Tante Te, Coolstuff.dk, Forlaget Brændpunkt og boghandlerkæden Arnold Busck.
Farvel og tak for fisk
(Ja, en tyvstjålet litterær reference)
Det var en helt fantastisk eftermiddag, og jeg er lykkelig for, at jeg havde mulighed for at deltage. På trods af min sære personlighed, der ikke tillader mange nye indtryk af gangen, før jeg løber hjem og gemmer mig under dynen, så havde jeg en fantastisk oplevelse! Julie havde stablet et flot arrangement på benene og jeg er utroligt taknemmelig for det hendes arbejde har givet mig!
Af hjertet tak til alle.