29. april 2018
Song of Blood and Stone
Title: Song of Blood and Stone
Author: L. Penelope

Published: St. Martin's Press, 2018

Song of Blood and Stone
Song of Blood and Stone takes place in the world of Elsira, which is a land of Silents; people, who cannot use the magic that is Song. Those who can are called Singers.
In Elsira lives Jasminda, a child of a Silent and a Singer, who bears the Song within her and the skin of a Singer on her outside. Because of this, she mostly keeps to herself, since people are afraid of her and her Song.
Jasminda has lost her parents and her brothers and lives alone in the family cabin on a small patch of land outside the nearest town, and now she stands to lose this too.
One day a group of soldiers and the injured spy they have captured find their way to her cabin, and she is forced to let them in. Jasminda slowly forms a bond with the injured captive named Jack and when they manage to escape the soldiers, it is the beginning of a long journey for both of them. Jasminda is racing time in order to keep her land and her last connection to her family, while Jack is on a mission to save their country.
My thoughts
I cannot find the words to describe what a wonderful experience it was to read this fantasy! I was completely taken aback by the marvellous story, magical universe and compelling characters that this story holds.
The story is told through a third person narrator, but still juggling multiple point of views (POV's), which I love. The main character Jasminda is so likeable and relatable and she has quickly climbed the ladder of my most liked characters.
I think L. Penelope has managed to write a story that will both take you away, but can also make you think about your own world and life. This is one of the strongest and most important possibilities of any fantasy ever, I believe.
I know we all love different things, and I am really afraid of overselling this, since I think it is important to go into a new book with less than high expectations, since your expectations can kill the reading experience. However, I sincerely recommend you read this, if you love a good fantasy novel!
Sneak Peek
I have been allowed to show you an excerpt from the book Song of Blood and Stone and I am so happy and so excited for this! You can find this excerpt by clicking on the title below this section and it will lead you straight to it! The excerpt is chapter two in which we meet a wounded soldier and a good samaritan. I sincerely hope you enjoy this chapter as much as I did! And if you wish to read the rest of the book, I can assure you that you don't have to wait for long: It will be on sale on Tuesday May 1st 2018 right where you normally buy your books and can already be preordered many places.
Find the excerpt through this link.
L. Penelope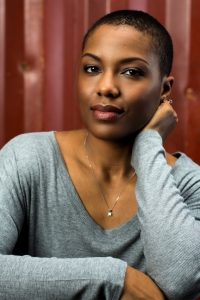 Leslye Penelope has been writing since she could hold a pen and loves getting lost in the worlds in her head. She is an award-winning author of new adult, fantasy, and paranormal romance. She lives in Maryland with her husband and their furry dependents: an eighty-pound lap dog and an aspiring feral cat.
Song of Blood and Stone is out on May 1st.