Reklame, da bogen er et anmeldereksempler fra forlaget
Originaltitel: The Power
Forfatter: Naomi Alderman
Udgivelse: Forlaget Alhambra, 2018
Jeg er nødt til at starte med at sige, at dette er en af de smukkeste bøger, jeg nogensinde har ejet. Til et bloggerevent hos Carlsen om YA-litteratur i april (som du kan læse mere om her) sagde forlagschef Christian Bach at hans filosofi var, at bøger skal være lavet i lækker kvalitet, hvis man vil have at folk skal købe dem. Jeg kunne ikke være mere enig! Jeg fravælger altid pocketbooks (de der små paperbackbøger med tætskrevne sider, der sjældent er mere end 12cm bred og 18cm høj), og hvis prisforskellen er lav vælger jeg oftest min bog som hardback eller indbundet. Det gør bare oplevelsen lidt mere lækker!
Kraften af Naomi Alderman udgivet på forlaget Alhambra er smuk og virkelig lækker at have i hånden.
For det første er den i hardback format, hvilket betyder at den er nem at lægge i tasken uden at frygte, at hjørnerne bøjer, og at man kan læse den med en hånd uden at frygte at ryggen knækker og får revner.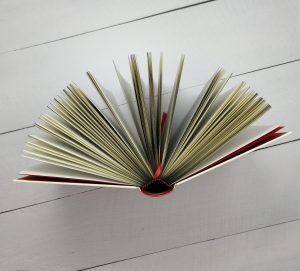 For det andet er ryggen lavet, på en måde jeg aldrig har oplevet før (se billede)  – og helt ærligt: Det er så fantastisk! På den her måde kan siderne bevæge sig mere frit, når man holder bogen åben, uden at det slider på bogryggen! Jeg har ingen anelse om, hvad det kaldes at gøre det på denne måde – så hvis du ved det, må du meget gerne oplyse mig!

For det tredje kommer bogen med eget bogmærke i lækker og holdbar kvalitet og en flot rød farve, der passer til resten af farverne på bogen. Og når nu vi er ved farvevalget, så er jeg vild med valget af farver til bogens omslag. Farverne harmonere smukt med hinanden og omslaget er så gennemført at selv siderne er farvet i kanten.
Men nu skal vi videre:
Kraften
I Kraften følger vi fire liv fra forskellige dele af verden, der vikles ind i den samme historie. Overalt begynder teenagepiger nemlig pludselig at udvikle evnen til at give kraftige stød gennem deres hænder. En evne, der snart viser sig at kunne vende op og ned på kvinders skæbne overalt i verden, da det er en evne, der kan udfordre mændenes ellers overlegne fysik. Rundt om i verden håndteres denne forandring naturligvis på forskellige måder, men uanset, hvordan man forholder sig til forandringen, så har det konsekvenser for alle.
Mine tanker om Kraften
Kraften er en stærk fortælling om magt og ulighed i en verden meget lig vores. Alderman eksperimenterer med magtbalancen, og lader kvinderne trække det længste strå, for dernæst at berette om, hvad det kunne betyde for verden. Kraften er en nærmest dystopisk science fiction fortælling, der er svær at lægge fra sig, og som samtidig sætter tanker i gang hos læseren. Alderman griber fat i mange vigtige tematikker, der er er aktuelle for vores samfund i dag, og får på en gang fat i både spændingslæseren og den eftertænksomme læser.

Jeg har haft rigtigt svært ved at finde ud af, hvilke ord, jeg skulle bruge til at beskrive min holdning til Kraften. Den er uden tvivl en page-turner, der samtidig sætter masser af tanker og overvejelser i gang i læserens hoved. Kraften er skrevet i et letlæst sprog, og ofte holdt i kortere sætninger, som medvirker til at gøre læsningen virkelig intens.
Samtidig følte jeg dog at denne skrivestil tog noget af karaktererne, og da jeg mere er en karakterdreven læser end en handlingsdreven læser, så følte jeg desværre, at der manglede noget, for at jeg skulle være helt og aldeles fanget. Karaktererne virkede flade, og var ikke særligt sympatiske, hvilket betød, at jeg havde svært ved at holde med nogen af dem. Det føltes som om, karaktererne ikke fik lov til at udfolde sig, hvilket desværre betød at jeg mistede lidt af interessen.
Kraften kan anbefales til alle, der interesserer sig for feminisme, for magtfortællinger og/eller for den reflekterende læser, der elsker at blive stimuleret af historier om aktuelle emner.