Jeg kan vist lige nå at være med på denne her, selv om vi allerede skriver november; hvordan kan tiden dog forsvinde så hurtigt?!
Ved at læse titlen for dagens indlæg, kunne man godt gå hen og tro, at jeg var gået tilbage til at skrive på engelsk. Men det er jeg altså ikke! Jeg er blot blevet tagget af den skønne Nadia fra The Bookish Boegeskov til at svare på dette booktag. Af hensyn til den oprindelige forfatter til tagget (Sam's Nonsense) får tagget dog lov at stå i sin oprindelige, engelske form.
Efteråret er en fantastisk årstid, og det er klart min favorit, selv om både sommer og forår følger skarpt efter (især efter den varme, vindstille og smukke sommer vi har haft i år!), så det har været en fantastisk oplevelse at kunne sætte nogle bogtitler og genrer på nogle af de mere velkendte (og nogle slet ikke-kendte) af efterårets kendetegn.
Tak til Nadia for tagget!
1. Crunching Leaves: The world is full of color – choose a book that have reds/oranges/yellows on the cover.
Den version af The Hunger Games: Mocking Jay, der står på min reol har de fineste orangerøde nuancer, der i den grad giver efterårsvibes. Også selv om det nok mere er ild og flammer, der burde være associationerne.

2. Cozy Sweater: It's finally cool enough to wear warm cozy clothing – what book gives you the warm fuzzies?
Mit umiddelbare svar er Harry Potter-serien, eller Harry Potter and the Philosopher's Stone, hvis jeg kun må vælge en. Jeg er netop gået i gang med en genlæsning af serien – om end det er første gang, jeg læser hele serien på engelsk – og det er i den grad en oplevelse, der varmer om hjertet. Både fordi der er noget helt basalt nostalgisk over det, men også fordi historien i sig selv bare er så sød, sjov og hjertevarm.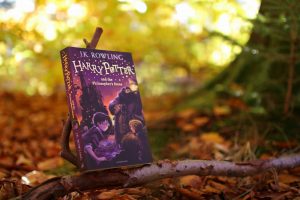 3. Fall Storm: The wind is howling & the rain is pounding – choose your favorite book OR genre that you like to read on a stormy day.
Det er svært at sige, for umiddelbart tænker jeg, det skal være noget gys og uhygge – men jeg er lidt en kylling, så det ville aldrig ske. Tværtimod ville jeg nok foretrække at læse om noget helt utroligt sukkersødt, så en kærlighedsroman eller en magisk og fortryllende bog, ville blive mit valg. Men generelt er det jo bare fantastisk at kunne sætte sig ned og læse, når man samtidig ved, at det er et umuligt vejr udenfor. Og så er der jo hele fantasygenren, som kan tage en med på de vildeste rejser, mens vinden hyler udenfor. Ja; jeg går med fantasy! Stærkt forfulgt af krimi.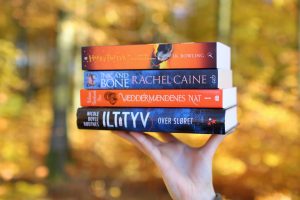 4. Cool Crisp Air: What's the coolest character you'd want to trade places with?
Åh, det er jo umuligt at svare på. Jeg er ret godt tilfreds med mit liv, og de fleste af de karakterer, jeg ser op til, ender faktisk med at dø eller miste noget enormt værdifuldt.
5. Hot Apple Cider: What under hyped book do you want to see become the next biggest, hottest thing?
Invisible Monsters! Jeg kan slet ikke sige det nok gange – den er fænomenal! Skrivestilen og måden bogen er sat op, er så sær og vidunderlig, og fortællingen selv er så vild og smuk og forfærdelig! <3 Jeg håber på, den en dag får sit helt store gennembrud og ikke skal leve i skyggen af Fight Club (som også er fantastisk, men slet ikke i samme grad).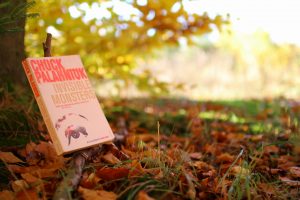 6. Coat, Scarves, and Mittens: The weather has turned cold & it's time to cover up – what's the most embarrassing book cover you own that you like to keep hidden in public?
Er det her overhovedet en ting? At man er flov over nogle af sine bøgers forsider. Så skulle det da være fordi, jeg havde ødelagt den… men sådan en har jeg ikke.
7. Pumpkin Spice: What's your favorite Fall time comforts food/foods?
Kanelsnegle! Yum yum yum! Der er bare noget ved duften af lunt brød og varm kanel, som kan løfte humøret på de helt grå efterårsdage. Og så er efteråret nok også den tid på året, hvor jeg indtager mest te. Men jeg har faktisk ikke rigtig en favorit te længere. I lang tid elskede jeg jordbær og citrongræs, men nu er jeg ikke længere så sikker på, den er øverst på min liste over lækre teer.
8. Warm, Cozy Bonfire: Spread the cozy warmth – who do you tag?
Jeg tagger tre søde bogelskere og håber, de vil lege med. Det er Sarah fra @sarahreffstrup,  Laura fra @fyrstenbooks og Benedicte fra Benedictes blog.